ZMRK is my New MONSTER 1 Cent 500%+ Upside MJ Bounce Alert!
ZMRK May Be a Hidden Gem at These Levels with Monstrous Triple Digit Upside Ahead!

Zalemark Holding Company, Inc.
US STOCK SYMBOL: ZMRK
Last Price: $0.0109 |  Website |  SEC Filings  |  News
The long term outlook for Canada's legal marijuana industry is very compelling and finding the big players before they become big is what could lead to substantial returns.
This is what brings me to my newest alert, a stock that is flying heavily under the radar right now and is only trading around a penny.
ZMRK has massive upside potential of around 500% if share prices head back to their 52-week high!
As one of just four nations with legalized pot, Canada is the largest fully legal recreational market in the world.
The loosening of government regulations has resulted in strong demand for the cannabis industry. In addition, the passing of the Cannabis Act and Cannabis 2.0 being rolled out in the country could lead to even more avid cannabis consumers.
With an expansive body of research reinforcing the medicinal qualities of cannabis, more and more Canadians are recognizing the need for greater access to the plant to treat a variety of ailments.
Pot stocks trading in the U.S market could be gearing up for a very big rally with the Democratic-controlled House set to vote on legalizing marijuana at the federal level for the first time in the chamber's history later this month.
House Majority Leader Steny Hoyer, D-Md., said the House would vote on the MORE Act during the week of Sept. 21st.
"It's about time," Nadler told USA TODAY, calling it a "historic vote" marking the beginning of the end of the federal government's "40-year, very misguided crusade" against marijuana.
Marijuana prohibition may be on its last legs now and this kind of move could be the catalyst needed for pot stocks to experience that major rebound that was expected to happen this year before coronavirus hit.
You may be one of the early birds reading about today's alert and the potential Gains here may be SUBSTANTIAL!
Zalemark Holding Company, Inc. (OTC: ZMRK) has completed a merger that could get it a solid footing into Canada's massive marijuana boom!
Zalemark Holding Company, Inc.
(OTC: ZMRK)
ZMRK is a U.S. public company, currently domiciled in the State of Delaware. Agricultural Industrialization in both the U.S., China, and Canada will be the new direction of the company. Zalemark will be utilizing its New Management's long-term relationships and working along the side of multiple Industry Leading Agricultural Companies that currently develop, design, and provide Agricultural Equipment to the Farming Industry. This equipment is used for both indoor and outdoor commercial farming. Zalemark will tentatively be purchasing Commercial Farmland in Canada that have ongoing operations for investment purposes only.
The company also recently completed its Massive Merger with AeroPonLeaf Holdings at the end of 2019.
ZMRK's primary goal will be to adopt aeroponic technologies to help farmers cultivate cannabis on their properties.
AeroPonLeaf Canada was setup in December 2017. Its aim is to build an Adult Destination Facility, integrated with Cannabis cultivation, processing and packaging, as well as Cannabis Research & Development. The property consists of 160 acres, located just north of the town of Bancroft in Hastings Highlands, a 40-minute drive from Algonquin National Park.
ZMRK's acquisition of AeroPonLeaf will reap benefits for its shareholders.
Their projects include integrating cannabis cultivation technologies, processing systems, and tourism destination project currently under development. ZMRK's AeroPonLeaf's has an innovative new Aeroponic irrigation system, that will be implemented in the facility. A further advance on the idea of hydroponics, aeroponics dismisses with the growing medium altogether, letting plant roots dangle freely in the air while they are nourished by nutrient-laden mists. The approach promises to dramatically bring down costs of cultivation to approximately $0.37 CAD per gram comparing to traditional growing methods with soil or other mediums.
To further this production, the company signed a new partnership agreement with Hempergy Corporation that was approved by Health Canada shortly after.
ZMRK is in one of the hottest spaces due to the legalization of cannabis across the world. Cannabis itself has carried a negative stigma for almost a half of a century until leading scientist and entrepreneurs have shown the uses for the plant. Cannabis has had a negative stigma until the last 8-10 years. Governments have adapted to change, and that change is to legalize the use of cannabis for medical purposes that must have great impact on an individual's health.
ZMRK's approach to creating cultivation technologies along with land ownership shows an aggressive move into the cannabis industry.
What was once thought of an afterthought, cannabis technologies and farming has been the forefront of a new farming pioneer. You do not have to have thousands of acres to be highly profitable.
ZMRK's aeroponics technology will lead the company into the next decade. This is a method of growing plants in an air or mist environment without the use of soil or an aggregate medium – to cultivate cannabis. This is an extremely efficient cultivation method that will significantly increase yields over traditionalgrowing methods.
ZMRK – A Colossal Bounce Opportunity
Shares of ZMRK were trading significantly higher around this time last year. The stock was trading as high as $0.0649 last September.
Just this past June share prices were as high as $0.015 and in March they were as high as $0.0249.
The upside possible here could be in the hundreds of percents if ZMRK heads back to March's levels or its 52-week high!
ZMRK provides an Absolutely Massive Triple-Digit Opportunity…
Just look at the chart!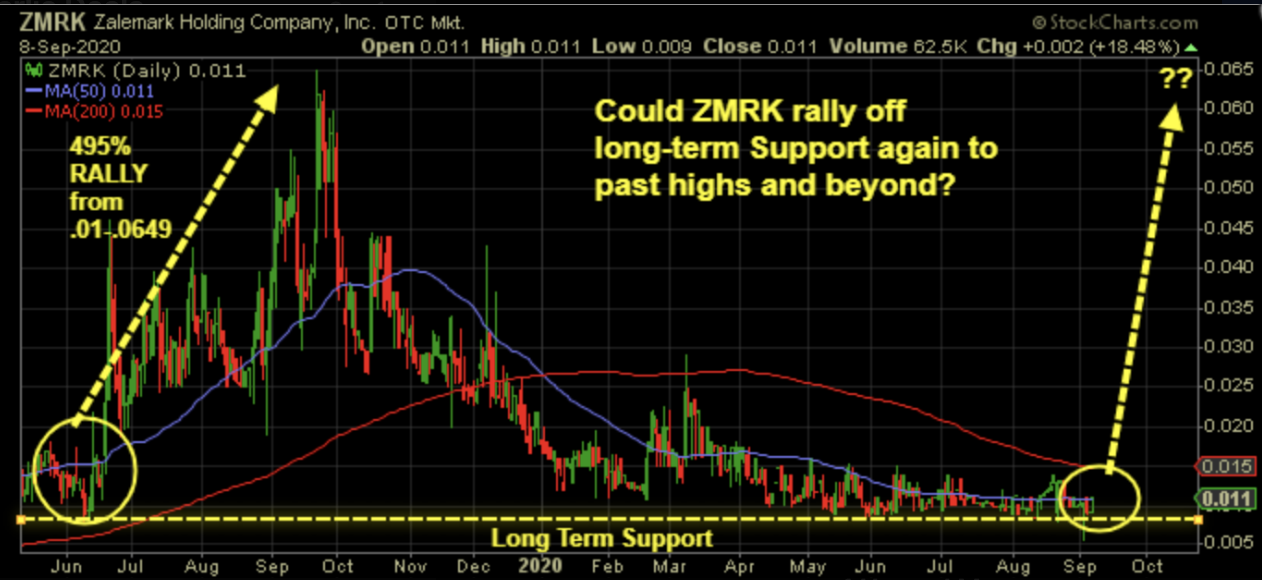 ZMRK – Jumps into the Massive Cannabis Arena
It was last year that ZMRK announced that the company had signed a letter of intent to acquire AeroPonLeaf Canada. It was then in December that the company announced the merger between the two companies had been completed.
ZMRK CEO CEO Xia Wu stated, "I believe the consolidation of the two Companies will bring great value to the Shareholders of Zalemark Holding Co. Inc. I further believe, that the Merger will allow the Company itself to reach its financial goals at a greater speed. It is in my opinion, that this will benefit both, the current Shareholders of "ZMRK" and Aeroponleaf Holding's Investors."
AeroPonLeaf is in the process of setting up an integrated cannabis cultivation, processing and packaging facility in the municipality of Hastings Highlands, north of Bancroft, Ontario.
AeroPonLeaf has acquired a 160 acre property on which it is building the cannabis production and processing plant. It eventually plans to expand into an Adult Destination Facility that will include medical research, a retail outlet and brewery, as well as a spa in addition to it's core focus on cannabis production. The Company has already obtained zoning changes for the facility from the municipality, and initial construction of the factory has begun.
The company uses advanced aeroponics; a method of growing plants in an air or mist environment without the use of soil or an aggregate medium – to cultivate cannabis.
This is an extremely efficient cultivation method that will significantly increase yields over traditional growing methods," said William R. Sharpe, director of the company.
Mr. Sharpe is a veteran of the Canadian beverage industry, with decades of Canadian beer industry experience and was the founder of Lakeport Brewing Corporation, later sold to Labbatt in 2007.
Andrew S. Brandt is another director of the company and he was the former Chairman and CEO of the Liquor Control Board of Ontario (LCBO) for 15 years, as well as former Leader of the Ontario Progressive Conservative party. Mr. Brandt brings invaluable experience from the liquor industry which is highly complementary to the cannabis industry.
ZMRK – The Budding Cannabis Arena and Canada's Outlook
Ontario is Canada's biggest province by population and considered a key driver of sales growth for the nation's marijuana industry. The province continues to license more stores as demand grows.
Cannabis stores in Ontario and Alberta have reported "unprecedented demand" during the coronavirus outbreak.
Cannabis companies recently told Marijuana Business Daily "there is no threat to supply chains at this time, and safety measures have been put into place for employees and consumers".
The Ontario Cannabis Store has seen its sales surge 80% week-over-week. The government-owned store dropped prices recently to improve competitiveness, but COVID-19 has also had an effect.
Physical stores in Ontario are additionally seeing an increase in orders.
"Not unlike major grocery retailers, Sessions Cannabis has seen a significant increase in sales this week due to growing concerns regarding COVID-19 social distancing protocols," Sessions CEO Steven CEO wrote in an email.
Consumers in Canada are becoming more and more curious about marijuana. In the first quarter of 2019, a staggering 646,000 cannabis users reported trying cannabis for the very first time in three months.
The "Baby Boomer" generation, born between 1945 to 1964, have become a larger market of cannabis in the country.
IBISWorld estimates that revenue for the cannabis production industry in Canada has increased an annualized 116.3 percent over the five years to 2020, reaching an anticipated $3.5 billion in 2020 itself.
The ETFMG Alternative Harvest (MJ) ETF, which tracks the cannabis industry, began a rebound in May while the AdvisorShares Pure Cannabis ETF (YOLO) has rebounded since March. Both are still well below their highs which means there's plenty of room for the correction to continue.
It is expected that when the pandemic clears, cannabis stocks will resume their interrupted recovery, especially with the U.S. making a historical vote on marijuana legislation this month!
ZMRK – Developments…
ZMRK Co-CEO Ms. Xia Wu has proudly received congratulation letter from University of Toronto Alumni Relations.
The letter states that "Your achievements bring honour to our University, and we take pride in your accomplishments and leadership."
Ms. Wu thanked the school for recognizing her efforts and would like to extend the wishes to all members of the company for great team works.
Zalemark Holding Co. Inc. will continue to make great strides, and will always operate ethically, and fairly. Management of ZMRK appreciates its Shareholders and will continue to provide updates.
Watch the company's news for any updates on AeroPonLeaf!
THE BOTTOM LINE
Industries may go through hard times, but these downturns can create solid investment opportunities. Many analysts were relying on a pot stock rebound this year but that was before anybody knew coronavirus would become what it did.
ZMRK looks like a sleeper stock right now that has slipped off of Wall Street's radar. This could quickly change if the company releases an update on its merger. It could be the catalyst needed to send shares flying back to previous highs.
Canada's marijuana market is a beast and the largest recreational market in the world for the plant.
According to BNN Bloomberg, for every 1 gram of cannabis priced at $10 in Canada, producers are estimated to profit $3.60. In addition, it is estimated that the private sector will generate close to $1 billion in EBITA with 85 percent coming from production and the rest from retail.
ZMRK at these levels could be like finding a ground-floor needle in the haystack!
Start your research right away!
Company Website: http://zalemark.com/
Warm Regards,

Alexander Reeves
PennyPicks.net
Sources:
http://zalemark.com/
https://www.otcmarkets.com/stock/ZMRK/overview
https://finance.yahoo.com/quote/zmrk/
https://www.usatoday.com/story/news/politics/2020/09/04/marijuana-house-vote-federal-legalization-first-time/5678068002/
https://www.quiet.ly/list/share/NuRwoodErE3mG7KkJ5TkPE3vubVM0DCBJoSITGdyEK0-why-canadians-love-weed?settingsId=1%26width%3D550%26type%3Dflexible
https://www.investors.com/news/marijuana-stocks-good-buy/
https://globalnews.ca/news/6283995/canada-legal-cannabis-spending/
---
Still need an Online Broker to place trades?
Do NOT use RobinHood! Our Team HIGHLY recommends E*TRADE!
Home  |  Twitter  |  Disclaimer  |  Contact |  |  View in Browser
Disclaimer – Always do your own research and consult with a licensed investment professional before investing. This communication is never to be used as the basis of making investment decisions, and is for entertainment purposes only. At most, this communication should serve only as a starting point to do your own research and consult with a licensed professional regarding the companies profiled and discussed. Conduct your own research. This newsletter is a paid advertisement, not a recommendation nor an offer to buy or sell securities. This newsletter is owned, operated and edited by Stellar Media Group, LLC.  Any wording found in this e-mail or disclaimer referencing to "I" or "we" or "our" or "Stellar Media" refers to Stellar Media Group, LLC.  Our business model is to be financially compensated to market and promote small public companies.  By reading our newsletter and our website you agree to the terms of our disclaimer, which are subject to change at any time. We are not registered or licensed in any jurisdiction whatsoever to provide investing advice or anything of an advisory or consultancy nature, and are therefore are unqualified to give investment recommendations. Companies with low price per share are speculative and carry a high degree of risk, so only invest what you can afford to lose. By using our service you agree not to hold our site, its editor's, owners, or staff liable for any damages, financial or otherwise, that may occur due to any action you may take based on the information contained within our newsletters or on our website. We do not advise any reader take any specific action. Losses can be larger than expected if the company experiences any problems with liquidity or wide spreads. Our website and newsletter are for entertainment purposes only. Never invest purely based on our alerts. Gains mentioned in our newsletter and on our website may be based on end-of-day or intraday data. This publication and their owners and affiliates may hold positions in the securities mentioned in our alerts, which we may sell at any time without notice to our subscribers, which may have a negative impact on share prices. If we own any shares we will list the information relevant to the stock and number of shares here. We do not own any shares in ZMRK. We have been compensated $30k via wire by a third party, ACN, LLC., for this communication on ZMRK. Stellar Media's business model is to receive financial compensation to promote public companies.  This compensation is a major conflict of interest in our ability to be unbiased regarding . Therefore, this communication should be viewed as a commercial advertisement only.  We have not investigated the background of the hiring third party or parties. The third party, profiled company, or their affiliates likely wish to liquidate shares of the profiled company at or near the time you receive this communication, which has the potential to hurt share prices.  Any non-compensated alerts are purely for the purpose of expanding our database for the benefit of our future financially compensated investor relations efforts. Frequently companies profiled in our alerts may experience a large increase in volume and share price during the course of investor relations marketing, which may end as soon as the investor relations marketing ceases. The investor relations marketing may be as brief as one day, after which a large decrease in volume and share price is likely to occur. Our emails may contain forward looking statements, which are not guaranteed to materialize due to a variety of factors. We do not guarantee the timeliness, accuracy, or completeness of the information on our site or in our newsletters. The information in our email newsletters and on our website is believed to be accurate and correct, but has not been independently verified and is not guaranteed to be correct. The information is collected from public sources, such as the profiled company's website and press releases, but is not researched or verified in any way whatsoever to ensure the publicly available information is correct. Furthermore, Stellar Media often employs independent contractor writers who may make errors when researching information and preparing these communications regarding profiled companies. Independent writers' works are double-checked and verified before publication, but it is certainly possible for errors or omissions to take place during editing of independent contractor writer's communications regarding the profiled company(s). You should assume all information in all of our communications is incorrect until you personally verify the information, and again are encouraged to never invest based on the information contained in our written communications. The information in our disclaimers is subject to change at any time without notice.