NWPN is my New LOW FLOAT SUBPENNY MJ Alert!
With Expanding Legalization in the MJ Space, NWPN is a Dirt Cheap Low Float Subpenny Stock that could deliver Massive Single Day Gains of OVER 100%!

Now Corporation
USA: NWPN   |  Canada:  |  Germany:
Last Price: $0.006   |  Website  |  SEC Filings  |  Latest News
This may be one of the most exciting times to have your eyes on the legal cannabis arena and my newest alert..
Today's alert is one that has seen dramatic Triple-Digit Gains in as little as a Single Day and Massive 300% Runs in Weeks! With a 300%+ Upside, how high could it Bounce today?
Many pot related stocks have been flying since election day in the U.S. after voters approved the legalization of cannabis in five more states including New Jersey. This means more states on the east coast could be following suit and we could also be seeing a domino effect happen around the nation.
The marijuana movement is getting very loud and with the U.S. Congress expected to vote on decriminalizing marijuana next month, the rally for cannabis stocks may only just be starting!
Many politicians from both sides of the political spectrum are now in favor of legalizing marijuana on a federal level. Newly elected president Joe Biden and newly elected vice president Kamala Harris have been vocal about this.
It should be emphasized that this will be the FIRST time that the U.S. House will vote on federal marijuana legalization!
Rep. Jerry Nadler recently told USA TODAY that "It's about time" and he called it a "historic vote" marking the beginning of the end of the federal government's "40-year, very misguided crusade" against marijuana.
This month the Gallop poll also reported a record high of 68% of Americans now in support of legal marijuana. In 1969 when the poll about this topic began, American support stood at only 12%.
We've sure come along way these last few decades and the legal cannabis industry is expected to see a lot of growth still. According to New Frontier Data, total combined legal sales of medical and adult-use cannabis in the U.S. are expected to reach $35 billion by 2025!
With marijuana prohibition looking to be on its last legs, The New Company (OTC: NWPN) may be a ground-floor situation in the cannabis space that could be ready to skyrocket!
The Now Corporation
(OTC: NWPN)
The Now Corporation is a publicly traded, bio-pharmaceutical research company focused on the research, education and production of Scientific-Grade Cannabidiol (CBD) from hemp and Tetrahydrocannabinol (THC) to be used for medicinal purpose, while focusing on pursuing business opportunities in the growing medical and recreational marijuana sector. Through its acquired assets, the company is seeking to invest in its businesses associated with the growing, marketing, research and development, training, distribution and retail sale of scientific-grade medicinal cannabis, both in the United States and Canada.
NWPN – Big Gains in the Short Term and a Possible Bounce Brewing
NWPN was trading as high as $0.0175 earlier this month.
There could be explosive bounce potential here. Share prices were also as high as $0.024 back in September!
Before NWPN soared to $0.0175 this month, it was trading as low as $0.006 in October. This represented gains of nearly 200% in just weeks.
The stock was as low as $0.0056 when September started and then hit $0.025 about two weeks later for a move of 346% that month!
Just take a look at this chart and you'll see why this Rock Bottom Subpenny is a No Brainer for those who love cheap prices, but huge upside…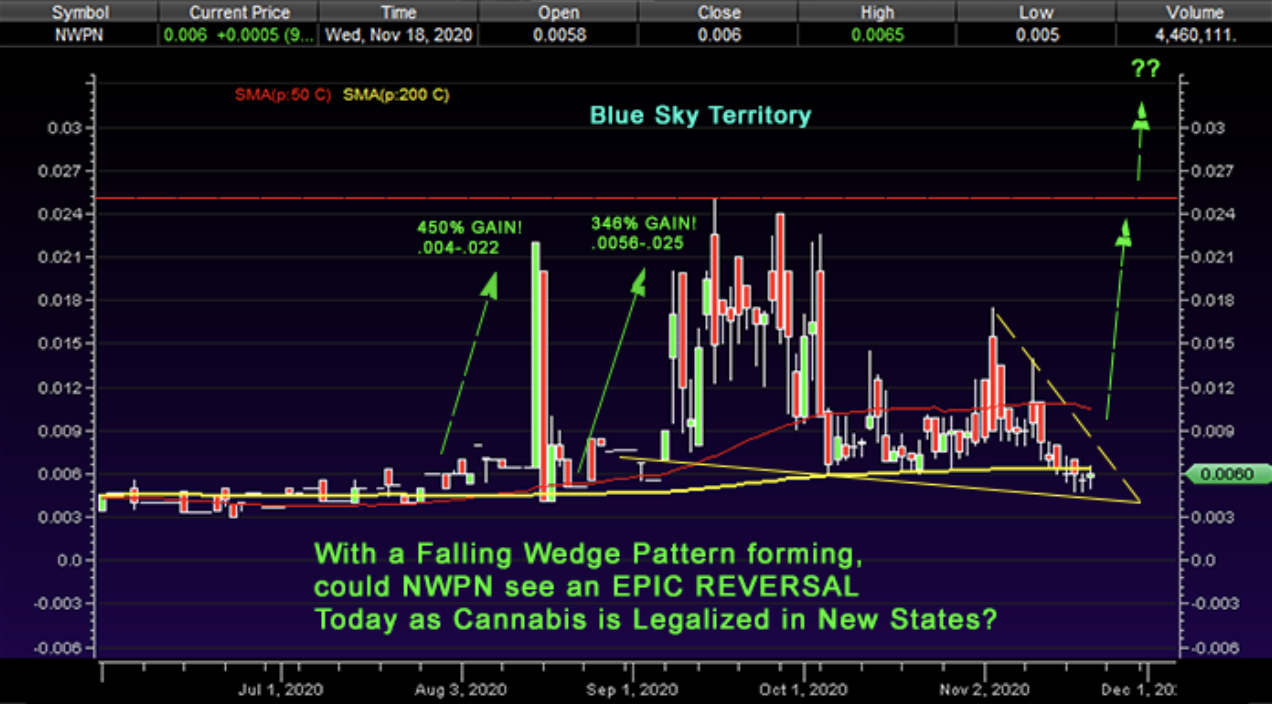 The upside potential here could be a staggering 316%!
Let's dive in and see why NWPN could be gearing up for another big breakout…
NWPN – A Very Small Trading Float
According to OTCMarkets, NWPN has a small trading float of a little under 91M shares.
This only comes out to around $500k!
With a considerably smaller number of shares that are available for trading than most stocks, NWPN has a tendency to be extremely volatile which can explain why gains of over 300% in just two weeks have been possible!
NWPN – Tackling the Gigantic CBD Arena
With the 2018 Farm Bill that was passed in December 2018, industrial hemp in the United States became federally legalized.
This means that hemp is no longer regulated as an illegal substance under the US Justice Department and this is greatly benefiting the CBD industry.
The public awareness of CBD and its many natural benefits is exploding and CBD products are flooding the market!
As CBD becomes legal and more available throughout the US, increased government regulation is inevitable and this could bode very well for NWPN.
According to the National Retail Federation, the CBD industry grew in customer demand by a whopping 700 percent in 2019. CBD sales are also expected to reach $4 billion dollars by 2023 says the Nutrition Business Journal.
Ironically the coronavirus was a silver lining for the hemp and CBD industry as more people have been stressed out and looking for ways to calm down and relax. At least 20% of consumers are using more CBD products as a direct result of the pandemic according to a June study by Aclara Research.
NWPN – Unlocking and Advancing Medicine for Human Life Around the World
NWPN is a bio-pharmaceutical research company focused on the research, education and production of Scientific-Grade Cannabidiol (CBD) from hemp and Tetrahydrocannabinol (THC) to be used for medicinal purpose, while focusing on pursuing business opportunities in the growing medical and recreational marijuana sector.
Through its acquired assets, the company is seeking to invest in its businesses associated with the growing, marketing, research and development, training, distribution and retail sale of scientific-grade medicinal cannabis, both in the United States and Canada.
This includes, but is not limited to, food, paper, and textiles derived from Hemp.
NWPN additionally provides Credible Scientific Research Data to the heavily regulated medical and recreational marijuana industries – currently one of the fastest growing industries in North America.
The company is dedicated to advancing the study of the medicinal use of Cannabidiol (CBD) and other cannabinoid molecules and seeks to develop cannabis-derived therapeutic products backed by strict and ethical scientific research.
In an effort to uncover the potential therapeutic capacity of cannabinoids, the company looks to establish the safest and most effective route of administration of highly purified CBD which currently remains to be determined within scientific literature!
NWPN has the ability to grow and analyze hemp seed genetic variability, the source of CBD, and its relationship to potency, will aid the pursuit of effective dosing that will be required for maximal health benefits.
 The Short Term Goal
NWPN has created agreements with top research scientists from major Universities and have utilized their existing labs to perform expensive research using cannabinoid compounds which are in cannabis plants.
From the research, the company will be able to publish research white papers that will contain credible data from these research laboratories.
As a result, the information that the company publishes will start to establish increased credibility in the industry, and will allow the company's products to be prescribed by physicians since they will be able to access the information in their databases.
These studies will answer many questions and stop false data and rumors about CBD/THC derived from cannabis, and the effects on the human body.
The Long Term Goal
The company desires to have an FDA approved medicine that focuses on nausea and other ailments. Due to the FDA approval, it will be available for pharmacies to dispense, and will be on the approved list for insurance companies to pay for.
Ultimately, NWPN will pursue patenting the compound on a molecular level, similar to Pfizers patent on the drug, Viagra.
Nausea and vomiting are not diseases, but they are symptoms of many conditions such as: Motion sickness or seasickness. Early stages of pregnancy (nausea occurs in approximately 50%-90% of all pregnancies; vomiting in 25%-55%).
This makes the market for an anti-nausea medicine quite significant!
 What Makes the Company Stand Out
NWPN will have a scientifically tested product. The existing products that are available on the markets may not be safe.
For example, what is the safe dosing for CBDs in the human body? What is the effectiveness rate when humans consume CBD, and how much can a human take before it becomes toxic to the body?
The Federal government, along with State governments must find out this answer before deeming it safe. The company's research does not start at the plant, they will also research air, soil, and water, from a seed genetic level up to a mature plant.
NWPN's CEO Ken Williams has spent five years leading public companies in the legal marijuana industry, three decades of Advanced Technology Engineering, and as an executive for multi-million-dollar brands. With him leading the way, the company could be headed to major recognition!
NWPN – The Medical Marijuana Research Act and What it Means for the Company
The Energy and Commerce Committee advanced bipartisan legislation recently led by Congresswoman Debbie Dingell (D-MI), Congressman Earl Blumenauer (D-OR), and Congressman H. Morgan Griffith (R-VA) that would eliminate barriers confining the legitimate research of medical marijuana.
There is a strong need to better understand the medicinal benefits of marijuana, but researchers dont have the tools necessary to conduct proper, science-driven research, said Dingell. That research requires us to remove outdated barriers that prevent research. Doing so will improve our understanding of medical marijuana and provide additional treatment options for millions of patients.
As momentum grows in our effort to end the failed prohibition of cannabis, we also need to address failed drug laws like the ones that make it extremely difficult for researchers and doctors to study cannabis.
The Medical Marijuana Research Act would amend the Controlled Substances Act to establish a new, separate registration process to facilitate research with marijuana for medical purposes; Encourage the Food and Drug Administration (FDA) to reduce the wait time for approval research registration applications; Direct FDA to issue guidelines on the production of marijuana from authorized researchers and manufacturers; Make available marijuana from state authorized marijuana programs; and Ensure all medical marijuana researchers are in compliance with FDA drug development standards.
Currently, the Federal government only allows researchers to use marijuana provided by the University of Mississippi. According to researchers, the marijuana provided by the University of Mississippi more resembles hemp than the medical or recreational marijuana produced by state-licensed providers. This has hindered researchers ability to understand the full extent of the medical benefits of marijuana.
According to a recent report, the U.S. has spent roughly $1.5 billion on marijuana research from 2008 to 2019. The vast majority of that research was focused on the potential harm, not potential medical benefits of marijuana."
"This is good news as we have recognized the problem from the beginning. It is clear the Federal Government needs factual research data from credible sources before making any decisions that will affect the quality of life for citizens living here in the United States. Many questions need to be answered and understood. This will change the industry to allow for safe and effective marijuana use," said NWPN CEO Ken Williams.
NWPN – Signs Joint Venture with Hollywood Diagnostics Center
NWPN has signed a joint venture with Hollywood Diagnostics Center to perform neurological studies using state-of-the-art imaging technology to measure brain activity by detecting changes associated with blood flow when CBD compounds are introduced to the human body.
Hollywood Diagnostics Center is a leader in the medical diagnostics field while performing over 30,000 diagnostic procedures annually!
The center continues to be at the forefront of medical technology by progressively updating its equipment and procedures to reflect the latest advances in medicine. HDC has provided the healthcare community with outstanding, technologically advanced medical services to address the changing needs of patients.
The goal of the imaging data analysis is to detect correlations between brain activation in subjects when either non-tasked or tasked activities are performed during the scan with CBD compounds present.
It also aims to discover correlations with cognitive states after CBD compounds are introduced to the subject.
The data derived from the studies will be published to the public via the National Institute of Health (NIH) database or any other public platforms within the scientific research community.
The parties desire to establish between them a joint venture in order to collaborate in:
A) Independent industry reviews and studies (United States and internationally)
B) Analysis and research that measures brain activity by detecting changes associated with blood flow using cannabinoids to determine changes in brain function.
C) Perform blood draw findings that go along with imaging analyses.
D) Publishing of White Papers to National Institute of Health, and other Scientific Publishing Platforms.
NWPN – The Enormous CBD Beverage Space
NWPN owns 26% of Transglobal Assets Inc. (OTC:TMSH), which has a CBD drink. This partnership allows the company to validate and certify the product for its ingredients, and safety.
The company is extremely interested in Transglobal Assets' Monster Elixir subsidiary both as an investment and for additional synergies.
Monster Elixir Inc. will provide customers with a wide range of high-quality CBD products from its organically grown Indoor and Outdoor gardens. It uses some of the best genetics in the industry with a guarantee that its plants are free from all unwanted pests and harmful chemicals.
Some other products are as follows:
Pur Root Lemonade: by utilizing the natural medicines in Marijuana Roots. Its Pur Root Lemonade will come in many flavors such as Ginger Bite and Pineapple Agave, sold in bulk or retail.
Infused Olive Oils: for all of your edible baking needs, it has Olive Oils Infused with CBDs, also sold in bulk or retail.
Distillates by the cartridges: Indica, Sativa and hybrids will be available.
Plus it will offer a unique arrangement of CBD Edibles, from hard candies and gummies to pound cakes and pies made from scratch.
These fine CBD products will be sold at local Dispensaries and other retail outlets, including at Monster Elixir stores coming soon.
The CBD drinks market in the U.S. will be worth $260 million by the year 2022, while the combined value of CBD and THC-infused beverages will reach $1.4 billion by 2024!
NWPN – The Massive Hemp Biofuel Opportunity
NWPN has an interest in the Hemp biofuel industry to provide a renewable alternative energy solution.
With respect to furtherance of this goal, the company looks to employ advanced chemistry research and technologies to elucidate the biological Hemp molecules to advance quality and effectiveness of the biofuel.
North America has absolutely no problem extracting oil from Hemp seeds which the company can subsequently use to make biofuel.
The company has currently executed a joint venture in the US for the production of Industrial Hemp for the purpose of biofuel research and production in the State of North Dakota. The Industrial Hemp farming industry is capable of bringing the United States 100% clean, renewable energy!
"Our vision is clear, Industrial hemp is perfectly capable of fueling the modern world without displacing food or adding to the Greenhouse effect. We will embrace the research and development of a constant, safe and quality alternative energy. We live on this planet and need to do everything within our power to protect it so future generations can thrive," said NWPN CEO Ken Williams.
In January NWPN announced a pilot program for producing derivatives from Industrial Hemp for biodiesel fuel in North Dakota.
The NOW Biodiesel Pilot Program forms part of the existing joint venture agreement with Mr. Curtis Johnson, for the cultivation of Industrial Hemp to be grown near Grand Forks, North Dakota.
For the 2020 grow season, the pilot program will consist of 400 acres and, upon a successful growing season, the following years will then expand to include over 1000+ acres.
To Curtis Johnson who grew up on 2000 acres of a cattle and grain ranch, which he still owns and now grows soybeans, wheat and corn, this brings the opportunity for diversification and expansion of future cultivation:
"I am excited to start this pilot program with The Now Corporation and to expand and diversify cultivation of new highly demanded products. With current governmental approvals, the requirement of growing industrial Hemp utilizing this prime land is economically justified," said Johnson.
There is a growing problem with fossil fuel depletion. As the price at the pumps continue to rise, the law of supply and demand, as well as many top analysts predict our crude oil resources are running out. Crude oil is not a renewable resource, so once it's gone… well, that's it.
This is why hemp biofuel is looking like an attractive alternative and NWPN could soon get recognized for its pilot program for producing derivatives from Industrial Hemp for biodiesel fuel in North Dakota!
Industrial hemp is perfectly capable of fueling the modern world without displacing food or adding to the Greenhouse effect. After almost 150 years of drilling and fracking, fossil fuel experts believe oil production could be nearing its peak and the hunt is on for a viable replacement such as hemp derived biofuel.
As oil production is getting more limited, the company could become recognized for its efforts to find a soluble substitute!
NWPN – What's Next for the Company…
NWPN announced at the end of October that it has positioned itself to take advantage of the legalizing and taxing of marijuana.
The company will place additional resources into some of its holdings that will realize an immediate benefit from the recent legalization of marijuana in Arizona, Montana, New Jersey, and South Dakota.
Further details  will be forthcoming.
**********************************************
NWPN is contemplating selling some of its non-core assets in an attempt to reduce its liabilities.
Some of the assets will include such items as its oil interests in Venango County, Pennsylvania. This will allow the company to focus exclusively on its cannabis research efforts.
Ken Williams, CEO, has stated, "I am unable to keep updated on the various assets that the company owns. I would be willing to divest of some of them. However, assets such as our preferred shares in Mike The Pike Productions Inc. will be held indefinitely due to its potential value if certain events unfold."
**********************************************
NWPN has acquired 50% of a trademarked brand that will be used to sell CBD/Marijuana Products.
The company remains in talks with a celebrity spokesperson that will be the perfect candidate to market this brand as he is described as an outrageous character. He was a professional athlete as well as a well regarded actor!
Updates will be forthcoming with full details.
**********************************************
NWPN has begun to perfect the correct mixture to maximize efficacy for a cbd-infused sports cream to help with muscle aches and stiffness.
This  will also provide  athletes with the ability to recover faster from intense workouts.  The ingredients to be included in this cream  will consist of, but not be limited to, the following:
CBD topical base oil, shea  butter, beeswax pellets, or clean beeswax, chopped fine Menthol crystals (to enhance absorption and effect), Eucalyptus essential oil, camphor oil and extracts (mint oil, shiling oil and exotic roots).
The company is considering marketing and selling this under a brand that we may purchase with  a significant social media following.
**********************************************
NWPN is aiming to work with both NASA and SpaceX for its research initiatives!
Concerning NASA, the company would like to utilize the International Space Station for unique discoveries of how CBD and THC reacts using animal testing. Cells tend to have a different effects in zero gravity.
Concerning SpaceX, they are aggressive in taking humans to space, for long extended times, and eventually to Mars. Through the company's research initiatives, the creation of an organic CBD nausea drug would be safe and beneficial for astronauts.
**********************************************
NWPN has hired Jeffrey Watson as a hired consultant. Watson is a former housing official based in Miami.
Prior to joining the White House under the Clinton administration, he served as a Senior Administrative Assistant for the Mayor of Miami, Xavier Suarez.
In addition, he also served as Finance Administrator for the City of Miamis Department of Development and Housing Conservation Agency and then became an Interim Assistant and Deputy Assistant to the President for Intergovernmental Affairs in the Clinton Administration as well as serving as a Director of the Presidential transition team.
He served in various states as a State Field Director and ultimately Deputy National Field Director of the Clinton/Gore 1992 Presidential election campaign. At the White House, he coordinated the development of the Administration's policy initiatives and facilitated communications between the White House and state and local government officials.
The Bottom Line
The U.S. is getting closer to federalizing marijuana on a federal level. The Federal government can't stick its head in the sand much longer and ignore the immense profit opportunity of the industry and the demands of the people.
There has already been an enormous rally for pot related stocks and the rally could continue as the USA considers ending federal prohibition of the plant.
This may be epic for NWPN's future, a company that will have lower costs when entering different states!
The company's scientifically tested products could capture a massive market with U.S. marijuana sales expected to top $30 billion in four years according to the 2020 "Marijuana Business Factbook."
Even with the pandemic, the legal cannabis arena has seen record sales.
Big pharma giants could also be on acquisition sprees to get footing into the cannabis market and NWPN is focused on getting an FDA approved medicine that focuses on nausea and other ailments.
NWPN is additionally driving toward a greener future with hemp biofuels and could set to profit immensely as the world embraces the next generation of biofuel. Hemp biofuels could help lead the nation's economy from a petroleum-based economy to a hemp-based economy.
With past breakouts in the hundreds of percents in just weeks, NWPN could be around the corner from another big stock explosion!
Remember, NWPN has the potential to Gain Over 250% Today!!!
Start your research right away!
Company Website: www.thenowcorp.net
Make sure you put this on your screen RIGHT NOW and Follow on Twitter for all the Updates + Play-by-Play!
Disclaimer – Always do your own research and consult with a licensed investment professional before investing. This communication is never to be used as the basis of making investment decisions, and is for entertainment purposes only. At most, this communication should serve only as a starting point to do your own research and consult with a licensed professional regarding the companies profiled and discussed. Conduct your own research. This newsletter is a paid advertisement, not a recommendation nor an offer to buy or sell securities. This newsletter is owned, operated and edited by Stellar Media Group, LLC.  Any wording found in this e-mail or disclaimer referencing to "I" or "we" or "our" or "Stellar Media" refers to Stellar Media Group, LLC.  Our business model is to be financially compensated to market and promote small public companies.  By reading our newsletter and our website you agree to the terms of our disclaimer, which are subject to change at any time. We are not registered or licensed in any jurisdiction whatsoever to provide investing advice or anything of an advisory or consultancy nature, and are therefore are unqualified to give investment recommendations. Companies with low price per share are speculative and carry a high degree of risk, so only invest what you can afford to lose. By using our service you agree not to hold our site, its editor's, owners, or staff liable for any damages, financial or otherwise, that may occur due to any action you may take based on the information contained within our newsletters or on our website. We do not advise any reader take any specific action. Losses can be larger than expected if the company experiences any problems with liquidity or wide spreads. Our website and newsletter are for entertainment purposes only. Never invest purely based on our alerts. Gains mentioned in our newsletter and on our website may be based on end-of-day or intraday data. This publication and their owners and affiliates may hold positions in the securities mentioned in our alerts, which we may sell at any time without notice to our subscribers, which may have a negative impact on share prices. If we own any shares we will list the information relevant to the stock and number of shares here. We do not own any shares in NWPN. We have been compensated $20k via wire by a third party, World Wide Media Holdings,  LLC., for this communication on NWPN. Stellar Media's business model is to receive financial compensation to promote public companies.  This compensation is a major conflict of interest in our ability to be unbiased regarding . Therefore, this communication should be viewed as a commercial advertisement only.  We have not investigated the background of the hiring third party or parties. The third party, profiled company, or their affiliates likely wish to liquidate shares of the profiled company at or near the time you receive this communication, which has the potential to hurt share prices.  Any non-compensated alerts are purely for the purpose of expanding our database for the benefit of our future financially compensated investor relations efforts. Frequently companies profiled in our alerts may experience a large increase in volume and share price during the course of investor relations marketing, which may end as soon as the investor relations marketing ceases. The investor relations marketing may be as brief as one day, after which a large decrease in volume and share price is likely to occur. Our emails may contain forward looking statements, which are not guaranteed to materialize due to a variety of factors. We do not guarantee the timeliness, accuracy, or completeness of the information on our site or in our newsletters. The information in our email newsletters and on our website is believed to be accurate and correct, but has not been independently verified and is not guaranteed to be correct. The information is collected from public sources, such as the profiled company's website and press releases, but is not researched or verified in any way whatsoever to ensure the publicly available information is correct. Furthermore, Stellar Media often employs independent contractor writers who may make errors when researching information and preparing these communications regarding profiled companies. Independent writers' works are double-checked and verified before publication, but it is certainly possible for errors or omissions to take place during editing of independent contractor writer's communications regarding the profiled company(s). You should assume all information in all of our communications is incorrect until you personally verify the information, and again are encouraged to never invest based on the information contained in our written communications. The information in our disclaimers is subject to change at any time without notice.