XPHYF is my Low Risk/High Reward Bioscience Alert!
XPHYF is a Disruptive Bioscience Accelerator That May Soon Be a Game Changer in Treating Parkinson's Disease, Treating Mental Health with Psychedelics and Fighting COVID-19 with a Rapid 25 Min PCR Test!
XPHYTO THERAPEUTICS CORP.
USA: XPHYF  |  Canada: XPHY  |  Germany: 4XT
Last Price: $1.80 |  Website  |  SEC Filings  |  Latest News
Subscriber,
It's not often that we come across a company that can make a major impact in an immediate fashion.
But TODAY is one of those days…
According to the CDC, now 6 out of 10 adults have a chronic disease. This is a terrifying reality that may explain why the medical industry is worth trillions of dollars.
One of the scariest diseases to have to live with in this world, is Parkinson's Disease.
This is a disease that has NO well understood cause… and worse, NO cure!
People who live with Parkinson's disease may say it is frightening, frustrating, and life-changing…
Companies that are able to make a real impact on medical innovation and can help to treat diseases such as Parkinson's Disease, are poised to become significant leaders in the future….
So when you come across a small-cap bioscience company… with a narrative that could potentially help millions of people who have Parkinson's Disease with low-cost generic medicaions and treat other major neurological conditions… it is time to pay attention!
Especially when this company is working with world-class life science industry and academic leaders!
And if that weren't enough, this TRI-LISTED BioTech Stock in the US, Canada, and Germany, also has it's hands in some of the most cutting-edge industries today from Diagnostics, CBD, and even Psychedelics.
Additionally, the company is making breakthroughs in the ongoing COVID-19 space!
So who is this relatively unknown, low priced, and under-exposed stock?
IT IS XPHYF!!
XPhyto Therapeutics Corp. (XPHYF) is a Bioscience accelerator focused on next-generation drug delivery, diagnostic, and new active pharmaceutical ingredient investment opportunities, including: precision transdermal and oral dissolvable drug formulations; rapid, low-cost infectious disease and oral health screening tests; and standardization of emerging active pharmaceutical ingredients for neurological applications, including psychedelic compounds and cannabinoids.
The Company's drug formulation and development business is conducted primarily by its wholly owned German subsidiary, Vektor Pharma TF GmbH, who is focused on the development of generic and hybrid-generic drug formulations for neurological conditions through its transdermal and oral dissolvable drug delivery platforms. Products in the development pipeline are targeting large and growing markets with the potential for meaningful patient outcomes.
Pilot Study of Company's Rotigotine Transdermal Patch for Parkinson's Disease is Completed
As announced, January 28, 2021, XPHYF's drug development trial schedule for Q1 2021 was focused on a human bioavailability pilot study of its Rotigotine transdermal patch for Parkinson's disease.
The Rotigotine study was completed successfully in March 2021. Based on the encouraging study results the Rotigotine development program will be advanced to a pivotal human trial.
Further details will be released in due course!
The company's goal is the commercialization of a low-cost generic Rotigotine patch!
Rotigotine is approved for the treatment of Parkinson's disease and restless legs syndrome in Europe and the US. The active pharmaceutical ingredient is a generic off-patent drug that is typically formulated as a once-daily skin patch, which provides a slow and constant supply of the drug over the course of 24 hours.
Global and European sales of Rotigotine patches last year came in at around $500 million, XPHYF has noted.
Remember, approximately 60,000 Americans are diagnosed with PD each year!
Company Signs Purchase and Sale Agreement for German Property to Build a New Drug Manufacturing Facility!
In anticipation of Vektor's drug product commercialization schedule, XPHYF has signed a purchase and sale agreement for a property in the district of Biberach, Germany, for the construction of a new commercial drug manufacturing facility.
The estimated maximum capacity of laboratory and manufacturing space permitted on the property is 3,000 m2 (32,000 ft2).
The Company is reviewing scalable construction options to synchronize its manufacturing capacity with demand from in-house and contract manufacturing opportunities.
Further details will be released in due course on this development as well!
"Vektor continues to build shareholder value by advancing its product development pipeline. Its lead program is now progressing to a pivotal human study in Europe, which is the final major milestone on the path to commercial regulatory approval," XPhyto Therapeutics CEO Hugh Rogers said in a statement.
"The addition of in-house, scalable commercial drug manufacturing capability is expected to add further value and optionality to XPhyto's drug formulation and manufacturing businesses," he added.
A BREAKTHROUGH IN RAPID COVID TESTING
Leading XPHYF's diagnostic endeavors is an exclusive Strategic Partnership with 3a-Diagnostics GmbH out in Germany.
XPHYF has a definitive development, technology purchase and license agreement with 3a, who received European Regulatory approval earlier this year for what could be a POWERFUL new tool in the fight against COVID-19.
Now most of us have likely gotten a COVID test over the last year.
By now we all know now that Rapid Tests are inaccurate and basically hit-or-miss and that the "Gold Standard" – the PCR Test (administered by a nasal swab) – can sometimes take over a week to provide results.
You see, the PCR test is based on the amplification of genetic materials. It's why other diagnostic testing methods, like antigen (protein) or serology (antibodies), do not provide the same level of accuracy as PCR.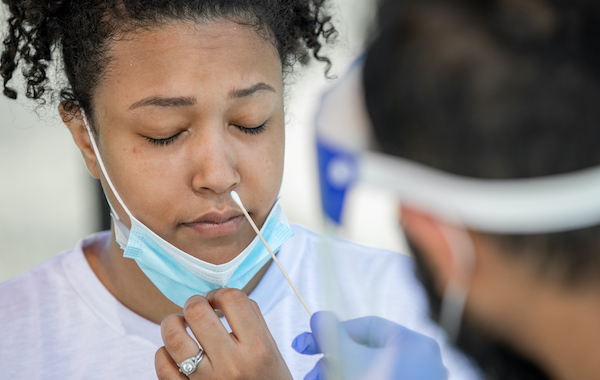 PCR tests detect RNA – genetic material – that's specific to the virus. The test is accurate enough to detect the virus within days of infection, even in people who have no symptoms.
So needless to say, all that time waiting for results could lead to the virus's continued spread if that person does no responsibly quarantine.
So what if I told you that XPHYF and 3a have a potentially disruptive approach to PCR testing?
Would you consider it a BREAKTHROUGH? REVOLUTIONARY?
A COVID PCR TEST IN JUST 25 MINUTES!
XPHYF and 3a Diagonostics have developed a rapid, point-of-care, and easy-to-use COVID-19 PCR system and also have a pipeline of other infectious disease screening tests which include a COVID-19 (saliva-based) lateral flow assay and oral dissolvable biosensors for pandemic threats and dental health applications.
In other words, they have basically re-engineered the PCR diagnostic exam to make it what could be the world's FASTEST and most portable Covid-19 test, with results delivered in as little as 25 minutes… and they have other products on the way!!!
Best of all, XPHYF's test is so portable it can be done with minimal equipment and training in a clinic, a hospital, a car – and what may turn out to be the most important settings – the test can be done at nursing homes, airports, cruise ship terminals, train stations, and office buildings.
And this is not just some "way out in the future" development…. the test is now approved for sale in Europe!
IMPORTANT: While excitement about a 25-minute Covid-19 test seems justifiable, it's equally important to clearly acknowledge this: that via its partner, 3a, what XPHYF has developed is in no way to be confused with a vaccine, cure, therapy, treatment, or containment strategy.
And now consider this…
The Global Rapid Test market is projected to reach USD $39.1 BIL by 2023 with a CAGR of 8.9% according to Allied Market Research.
So on one hand, XPHYF could make a significant positive impact the world….but they could also seriously CAPITALIZE on it!
XYPHF'S PLAN FOR THE FUTURE
Upon European Regulatory approval, XPHYF plans to roll out it's Rapid PCR Test across Europe at a very crucial time.
Currently, much of Europe and the United Kingdom are in lockdown, suffering from second and third waves of Covid-19 infections, including new strains that are even deadlier than the first.
The U.S. Department of Defense reports that "we have a long path ahead," with the pandemic continuing to spread through 2021.
And, in fact, the world may need a rapid test for COVID-19 for many years to come because scientists doubt it can ever be fully eradicated.
So if that's the case and it becomes a chronic reality like the flu, then XPHYF's test could have a long successful run in front of it.
The company's distribution, storage and logistics partner, Max Pharma GmbH ("Max Pharma"), has recently launched the sale of its 25-minute SARS-CoV-2 (COVID-19) RT-PCR test system in Germany!
Covid-ID Lab is registered within the European Union as a commercial in vitro diagnostic (CE-IVD) test.
"Covid-ID Lab provides diagnostic level accuracy in minutes at the point-of-care. It is a specialized product that is designed to fill the market gap between disposable antigen tests and centralized automated PCR systems," says Wolfgang Probst, COO and director of XPhyto. "Examples of target customers are airports, cruise lines, pharmacies, medical clinics, and any industrial or education site that requires rapid, definitive results."
XPHYF – A DIVERSE BIOSCIENCE PLAY
XPHYF has its hands in some of the HOTTEST industries today through it's various subsidiaries and partners.
Among the most notable are it's work in combating epilepsy using CBD with innovative sublingual thin film technology through it's subsidiary Vektor Pharma and looking to challenge GW Pharma's (NASDAQ: GWPH) dominance.
XPHYF may aim to tackle chronic pain, infectious disease detection, appetite regulation, inflammatory dermatology, and sleep disorders through several novel drug delivery technologies, including sublingual (under the tongue) and transdermal (on the skin) thin films that are biodegradable..
THIN FILM DRUG DELIVERY IS A MASSIVELY GROWING MARKET!
Analysis from Market Data Forecast reports that the global thin-film market will grow at 9% CAGR to reach $29.2 BIL by 2025, an increase of more than $10 BIL over today.
Most cutting edge of all is XPHYF's bold foray into Psychedelics for usage in mental health and psychotherapy.
THE PSYCHEDELICS OPPORTUNITY
Psychedelics are making a wild comeback and escaping the negative stigma they have had for decades…
Psychedelics have a promoising track record in a myriad of therapies…
XPHYF is involved in the development of psychedelic medicine to treat mental health-related medical conditions such as depression, anxiety, addiction, and trauma-related stress disorder.
THE BOTTOM LINE
With a healthy chart trading at support levels, a human pivotal trial for a generic Parkinson's Disease treatment on the way, BREAKTHROUGH Rapid Test to combat COVID approved in Europe, and a suite of Cutting-Edge Biotech initiatives in CBD, THC, and Psychedelics, XPHYF must not be missed!
The company's research and development in psychedelics treatments with modern scientific methods and validation could change the narrative on mental health-related medical condiitons!
Disclaimer – Always do your own research and consult with a licensed investment professional before investing. This communication is never to be used as the basis of making investment decisions, and is for entertainment purposes only. At most, this communication should serve only as a starting point to do your own research and consult with a licensed professional regarding the companies profiled and discussed. Conduct your own research. This newsletter is a paid advertisement, not a recommendation nor an offer to buy or sell securities. This newsletter is owned, operated and edited by Stellar Media Group, LLC.  Any wording found in this e-mail or disclaimer referencing to "I" or "we" or "our" or "Stellar Media" refers to Stellar Media Group, LLC.  Our business model is to be financially compensated to market and promote small public companies.  By reading our newsletter and our website you agree to the terms of our disclaimer, which are subject to change at any time. We are not registered or licensed in any jurisdiction whatsoever to provide investing advice or anything of an advisory or consultancy nature, and are therefore are unqualified to give investment recommendations. Companies with low price per share are speculative and carry a high degree of risk, so only invest what you can afford to lose. By using our service you agree not to hold our site, its editor's, owners, or staff liable for any damages, financial or otherwise, that may occur due to any action you may take based on the information contained within our newsletters or on our website. We do not advise any reader take any specific action. Losses can be larger than expected if the company experiences any problems with liquidity or wide spreads. Our website and newsletter are for entertainment purposes only. Never invest purely based on our alerts. Gains mentioned in our newsletter and on our website may be based on end-of-day or intraday data. This publication and their owners and affiliates may hold positions in the securities mentioned in our alerts, which we may sell at any time without notice to our subscribers, which may have a negative impact on share prices. If we own any shares we will list the information relevant to the stock and number of shares here. We do not own any shares in XPHYF. We have been compensated $40k via wire by a third party,  Investing Channel, Inc., for this communication on XPHYF. Stellar Media's business model is to receive financial compensation to promote public companies.  This compensation is a major conflict of interest in our ability to be unbiased regarding . Therefore, this communication should be viewed as a commercial advertisement only.  We have not investigated the background of the hiring third party or parties. The third party, profiled company, or their affiliates likely wish to liquidate shares of the profiled company at or near the time you receive this communication, which has the potential to hurt share prices.  Any non-compensated alerts are purely for the purpose of expanding our database for the benefit of our future financially compensated investor relations efforts. Frequently companies profiled in our alerts may experience a large increase in volume and share price during the course of investor relations marketing, which may end as soon as the investor relations marketing ceases. The investor relations marketing may be as brief as one day, after which a large decrease in volume and share price is likely to occur. Our emails may contain forward looking statements, which are not guaranteed to materialize due to a variety of factors. We do not guarantee the timeliness, accuracy, or completeness of the information on our site or in our newsletters. The information in our email newsletters and on our website is believed to be accurate and correct, but has not been independently verified and is not guaranteed to be correct. The information is collected from public sources, such as the profiled company's website and press releases, but is not researched or verified in any way whatsoever to ensure the publicly available information is correct. Furthermore, Stellar Media often employs independent contractor writers who may make errors when researching information and preparing these communications regarding profiled companies. Independent writers' works are double-checked and verified before publication, but it is certainly possible for errors or omissions to take place during editing of independent contractor writer's communications regarding the profiled company(s). You should assume all information in all of our communications is incorrect until you personally verify the information, and again are encouraged to never invest based on the information contained in our written communications. The information in our disclaimers is subject to change at any time without notice.