KWEMF is my Defense Sector Alert that could BLAST OFF!
With Significant Revenue Growth Since 2019 + Major Bottom Bounce Potential, KWEMF Could Soon Be Catching Colossal Wall Street Attention!

Kwesst Micro Systems Inc.
USA: OTCQB: KWEMF | CANADA: TSXV: KWE 
Last Price: $1.473 | Website | SEC Filings | Latest News
Subscriber,
Before I dive into today's exciting small-cap alert… let me begin with some very compelling data.
According to the Stockholm International Peace Research Institute (SIPRI) total global military expenditure rose to $1981 billion last year, an increase of 2.6 per cent in real terms from 2019!
In 2020 US military expenditure reached an estimated $778 billion representing an increase of 4.4 per cent over 2019. As the world's largest military spender, the USA accounted for 39 per cent of total military expenditure in 2020.
U.S. military expenditures are roughly the size of the next seven largest military budgets around the world, combined!
These are staggering figures but also not surprising figures.
Defense is one of the most important expenditures for many countries.
Global defense is a high growth space and the company you are about to read about looks poised to becoming the next huge name in the space!
The stock is currently trading at under $2 and looks to be very under the radar!
In the last few months, shares have rallied over 240% and at current levels could see short term upside of 41%!
The company is taking on the global soldiers systems market which is forecast to skyrocket to $14.4B by 2023, by advancing modern networked capability of soldiers and responders as well as keeping frontline personnel on the leading edge of safety and effectiveness.
With innovative technologies, Kwesst Micro Systems Inc. (OTC: KWEMF) could be the BIGGEST discovery made in the high-growth defense arena!
Kwesst Micro Systems, Inc.
(OTC: KWEMF)
With offices in Washington D.C., London, the UK, and Abu Dhabi, Canadian-based KWESST is a proud leader in the development and commercialization of breakthrough next-generation tactical systems that meet the requirements of security forces and personal defense for overmatch capability against adversaries.  The company develops and commercializes high-value ultra-miniaturized technology applications for the defense and security industries with a unique technology portfolio that includes its proprietary "MISST" system – "Micro Integrated Systems and Software Technology".
KWEMF – Bounce Potential Could Be Monumental!
It was only this past September that KWEMF hit a 52-week high of $2.078.  There could be major bounce potential now after the profit takers are weeded out!
A gain of 40+% is possible if shares go back to that 52-week high.
PLUS, KWEMF is no stranger to epic rallies.
The stock soared from as low as $0.6039 in June to its 52-week high in September for an amazing run of 244%!
The stock also has an incredible technical setup for a bounce. Take a look at the chart…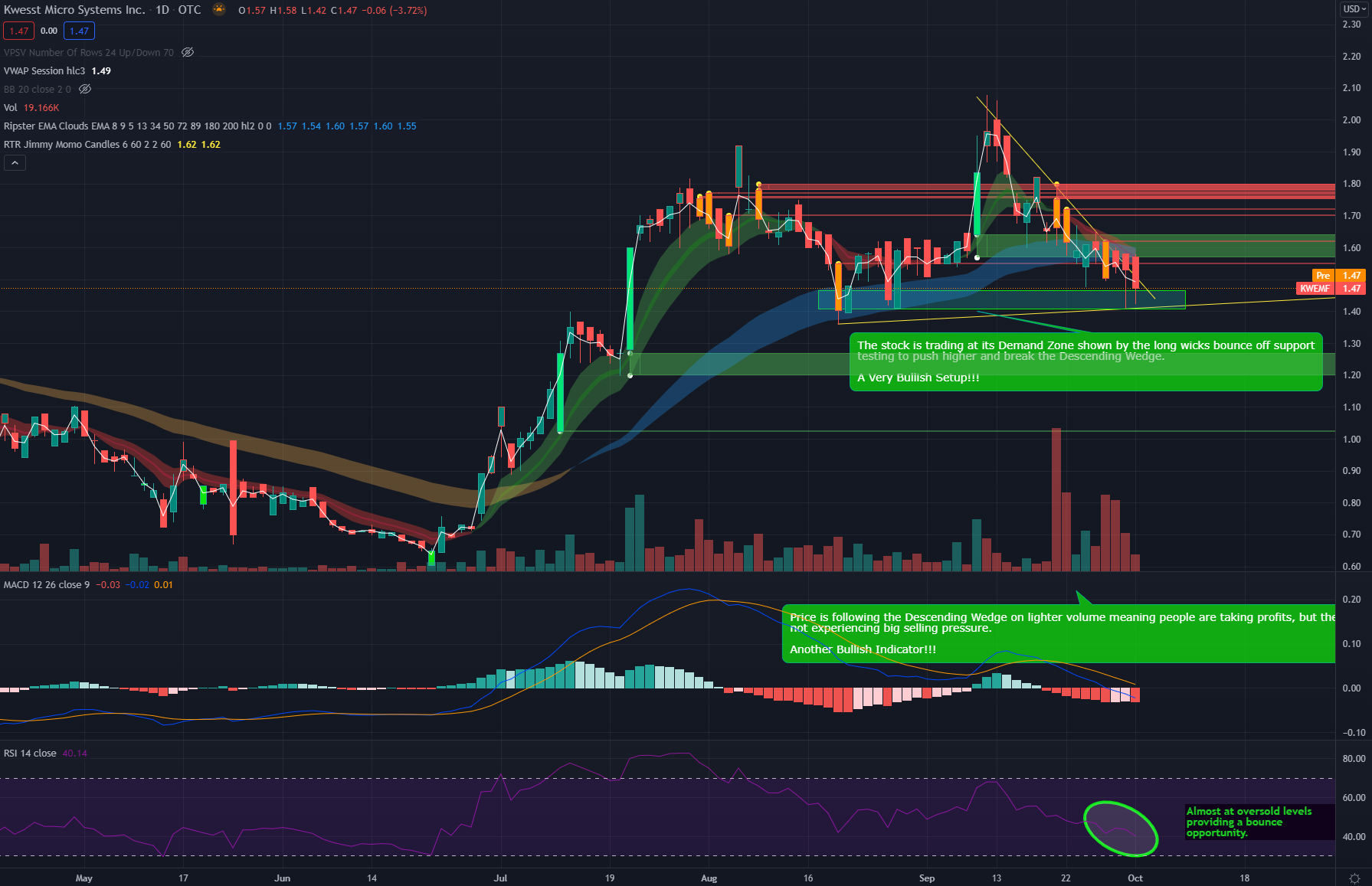 As the world continues to learn about this under-the-radar defense play, there could be massive upside ahead!
KWEMF – Bold Innovations in Tactical Systems for Defense & Security
KWEMF's mission is to grow in the monstrous sectors found in global defense and security.
It is these sectors where spending is out of this world and could generate tremendous revenues for the company!
Make sure to check out this video to get a better picture of what exactly the company is doing:
Kwesst Micro Systems (KWE.V) keeping our frontline forces safe and effective in the digital age – YouTube
Key market segments and solutions the company is addressing are:
Breakthrough technology in non-lethal systems with broad application, including law enforcement and personal defense.
Modernized digitization of tactical forces for shared situational awareness and targeting.
Counter-measures against threats such as drones, lasers and electronic detection.
Company Highlights Include:
Let's dive into some of the exciting technology KWEMF has to offer …
KWEMF – LEC is a Universal System for All Kinds of Non-lethal Applications
KWEMF's proprietary LEC technology solves the twin problems of high-energy "less lethal" cartridge-based munitions that can sometimes be lethal, and the problem of air-powered alternatives that lack the reliability of a cartridge-based system.
The LEC is a novel, patent-pending system comprising: a specialized, low-cost firing platform, and a "munition" having a cartridge case with a low-energy "actuator" that propels and stabilizes a polymer projectile.
Projectiles can be solid polymer for "pain compliance" or target practice; or a bullet-shaped hollow "plug" containing a bright marking agent for realistic training; or, a high-potency irritant powder for temporary incapacitation for use in self defense, law enforcement or animal control, plus an inert powder variant for practice.
The Low Energy Cartridge (LEC) System
The LEC is a universal system for all kinds of "non-lethal" applications:
There is no question that law enforcement around the country needs better tactical strategies to stop unnecessary fatalities..
"The kind of fatalities that have led to widespread protests in the U.S. are just one example of the need for more advanced solutions that enable law enforcement to engage with more benign devices from a safer stand-off distance and ensure that everyone goes home alive."
 – KWESST Micro Systems Executive Chairman David Luxton.
LEC Technology is a proprietary non-lethal cartridge-based ordnance system that was developed by Mr. Luxton and could be EXACTLY what law enforcement needs going forward!
It was in January of 2021 that KWESST Micro Systems entered into a technology purchase agreement with DEFSEC Corporation to acquire this proprietary non-lethal munition technology.
DEFSEC is an Ottawa-based based private company that is owned Mr. Luxton, who has a track record in developing world-leading non-lethal products.
Competing products such as traditional air-powered systems for public order, personal protection and gaming have limitations which the LEC Technology does not!
Systems utilizing compressed gas, cannot typically be stored with gas in the system as the afore mentioned seals and "O" rings will allow the gas to escape over time, potentially rendering the device unusable when needed the most.
Other alternatives, such as Taser, carried by some 400,000 American patrol officers, can also be unreliable in certain situations. The LAPD has said tasers have an effectiveness rating of only 57.1%!
Check out the first public video demonstrating the Company's non-lethal Low Energy Cartridge (LEC) product in action here: https://www.youtube.com/watch?v=a22sm6OE5c4
KWEMF – Engages Stryk Group USA for Commercialization of "LEC"
It was only last month that KWEMF has engaged Stryk Group USA as the company's strategic partner for commercialization of its' Low Energy Cartridge ("LEC") non-lethal products in the U.S.!
"This is a crucial step in our roadmap to bring LEC products to market in the U.S., with an official hard launch at the SHOT Show in Las Vegas, January 18-21, 2022," said David Luxton, Executive Chairman of KWESST.
"Like others in the industry, we are well acquainted with the standout capabilities of the team at Stryk Group to build major brands in the shooting and outdoor trade." He added, "From previous work with them in other ventures, they are hands-down the go-to specialists in this field for me. Their marquee client list speaks for itself, and we are very pleased that they share our confidence in the transformative potential of the LEC."
That's right.. these innovative products are heading to the SHOT show in the next few months where they could gain a lot of exposure!
Under the terms of the engagement, Stryk Group will provide KWEMF with expert advice on market positioning and branding, and the development of a web site with social media and e-commerce modules.
"By the end of this year customers will be able to pre-order the product right from our website, to be created by Stryk Group," said Luxton.
The project will also leverage Stryk Group's proprietary data bases and sophisticated digital platforms for highly targeted promotion to qualified audiences at scale, augmented by strategic physical sales channel development, plus order taking and fulfillment across the U.S.
"We are confident that by working with Stryk Group this way, including their proven digital strategies, we will accelerate our time to market and the ramp-up of sales," added Luxton.
KWEMF – TASCS is Another Game Changing Technology that Could Save Lives
Based on KWEMF's proprietary MISST Technology, the company's signature TASCS (Tactical Awareness and Situational Control System) product gives real-time awareness and targeting information from any source (including drones) streamed directly to users' smart devices and weapons.
The Tactical Awareness and Situational Control System is an app and snap-on weapon adaptor that enables real-time streaming of situational awareness data of any kind from any source, including drones, direct to users' smart display devices and weapons systems, for a common operating picture and networked targeting of adversaries.
Global go to market strategy:
Direct engagement and evaluation contracts with opinion-making end-users.
Teaming / partnering agreements with prime defense contractors and OEM suppliers for U.S. military, including ManTech, AeroVironment and Samsung.
International distribution through established agents and representatives
Market size:
Multi-billion global market for application of TASCS to installed base of candidate weapons systems.
Obtainable market $400M just for application of TASCS on mortar systems alone.
In fact, the company recently delivered on a $1.1 MIL Dollar defense contract for this TASCS system with a key US Military client!!
Getting a U.S. military client is nothing short of impressive for an early-stage company, considering that any U.S. military contract is pretty much gold when it comes to defense.
TASCS can integrate with drones to provide a feed to ground forces and their weapons systems including sniper rifles, mortars, grenade launchers, mounted machine guns, and vehicle mounted weaponry.
THINK OF THE MILITARY ADVANTAGE THIS WOULD GIVE GROUND TROOPS!
In March 2021, KWEMF announced the successful integration of TASCS IFM into the Android Tactical Assault Kit (ATAK), the preeminent battlefield management system used by more than a dozen U.S. government agencies and many NATO allies and partner nations.
Android Team Awareness Kit (ATAK) integration services
The Company reported that its pipeline of sales opportunities for ATAK integration services stands at more than $40M and growing!
"These opportunities are with major end-users in NATO countries and with Tier 1 and Tier 2 global defense contractors," said KWEMF CEO Jeff MacLeod. "We expect these to result in initial contracts and teaming agreements starting in Q1 of Fiscal 2022, with more to follow through 2022 and extending to 2023, 2024 and beyond."
KWEMF also reported that it is progressing on schedule and to budget in the delivery of its $1.1M contract for TASCS (Tactical Awareness Situational Control System) IFM (Integrated Fires Module) systems for the 81mm mortar to a key U.S. military customer.
The successful integration has opened the doors to many military customers around the world, including NATO allies!
KWEMF – Other Promising Tech and Products that Could Get the Company Noticed
GreyGhost™
A drone whose principal function and operation is acting as a projectile to intercept aerial threats using ultra-high speed kinetic (i.e. motion-related) impact force.
KWEMF's GreyGhost™ addresses a concern for deployed military and many security agencies arising from the proliferation of small drones and the potential hazards they pose to troops, sensitive infrastructure and the public at large.
KWEMF's licensed micro-drone missile technology provides a range in excess of 3 KM, locks on to a target, and once in attack mode, it will track and repeatedly impact the target drone until it is destroyed!
Multiple GreyGhost™ missiles can also be launched concurrently to deal with multiple targets simultaneously.
The Company reported that GreyGhost™ is among a small handful of counter-measures against small drones recently down-selected by the U.S. military joint program for further evaluation.
In KWEMF's most recent corporate update, the company said that they are working with US Department of Defense and another NATO country on upgraded capability of the GreyGhost counter-drone system to deal with next-generation drone threats and has commenced engagement with major defense contractors on potential partnerships.
Phantom™
Phantom™ is a compact, lightweight and selectively electromagnetic transmitter capable of mimicking the electromagnetic footprint of a tactical military units.
The purpose of this electronic battlefield decoy system is to mask the electromagnetic signature of friendly forces with decoy signatures at false locations to deceive and confuse adversaries.
FEATURES:
🔸 Spoofs adversaries to draw them out, slow their targeting of friendly forces, and commit and waste assets on phantom targets
🔸 Authentic emulation of voice, video, data and text signatures of NATO forces.
🔸 Addresses next-generation NATO requirements.
🔸 Simultaneous waveform generation across all communications systems
Recent interest from NATO agencies and defense contractors for this product has resulted in KWEMF moving up the production of demonstration samples of Phantom™ in the Company's priorities.
The company was also awarded a Patent for the Phantom™ and recently concluded a successful demonstration to the U.S. Special Operations Command!
KWEMF is currently producing upgraded units to be used as demonstration samples in response to other U.S. Department of Defense requests for trials and potential initial procurement before the end of calendar 2021.
Ground Laser Defense
A Ground Laser Defense system used to counter the emerging threat of weaponized lasers against military personnel.
According to KWEMF, this unique product has no known equivalent and comes in 3 versions:
🔸 Personal alert version: Warns of laser presence
🔸 Dismounted squad version: Warns, and locates laser source
🔸 Vehicle mounted version: 360˚ detection and locates laser source
KWEMF – Defense Spending is Astronomical!
The defense industry is one of the evergreen sectors to look at, owning to the evolving warfare techniques, increasing demand amid a rapidly changing world order and geopolitical tensions.
Did you know that defense companies get the bulk of their revenue from one customer: the U.S. government? It is a good thing that the U.S. has deep pockets and a 245-year history of paying its bills.
If there is one thing the United States is not cheap about, it is their defense spending. The Pentagon has an insatiable appetite for new equipment. The international market is also tremendous.
KWEMF – Recent Developments…
The following developments are in KWEMF's latest corporate update found HERE:
Innovation Solutions Canada ("ISC")
As announced on August 5th, the company received notification from ISC that it has qualified for up to $1.5M in non-dilutive funding to advance its counter-UAS technology, its PhantomTM electronic decoy and its Tactical Awareness and Situational Control System (TASCS) Indirect Fire Module (IFM) system currently under contract with a key U.S. military customer.
"The last phase of our current TASCS IFM contract for this U.S. military customer is scheduled for completion this October," said MacLeod, who added, "We are currently in discussions with this customer regarding next phases of procurement. We are also submitting proposals to other NATO customers with similar requirements." THAT IS THIS MONTH!
PhantomTM electronic decoy
The Company remarked that it is seeing accelerated interest in its PhantomTM electronic decoy following a successful demonstration to U.S. Special Operations Command (USSOCOM) in June of this year and is currently producing upgraded units to be used as demonstration samples in response to other U.S. Department of Defense ("DoD") requests for trials and potential initial procurement before the end of calendar 2021. As well, the Company continues to develop ever-stronger IP around this technology and recently received yet another U.S. patent, this one covering methods of employment in addition to previous patents covering the technology itself.
GreyGhost ® counter-drone
The company is also working with DoD and another NATO country on upgraded capability for the GreyGhost ® counter-drone system to deal with next-generation drone threats and has commenced engagement with major defense contractors on potential partnerships.
Partnerships
"It is a key part of our go-to-market plan to partner with global defense prime and major sub-contractors," said CEO Jeff MacLeod, "We announced a handful of such partnerships early on. The past few months have been especially active in progressing discussions with several others on all fronts, which is expected to result in announcements in the coming weeks and months."
Attendance at trade shows
The international defense market has seen relaxed COVID-19 restrictions with the re-opening of major trade shows and events. "We attended IDEX, the premier Middle East event in Abu Dhabi this past February and announced the appointment of Bin Hilal Enterprises, LLC as our representative in the key Middle East market of the United Arab Emirates," stated MacLeod.
The company was also expected to show at the reopening of DSEI, the major European defense show in London, UK, in September, as well as the Modern-Day Marine show, also in September, and AUSA, the major annual U.S. Army event in Washington DC in October.
THE BOTTOM LINE
Bank of America analyst Ronald Epstein projects that the U.S. defense budget will continue to grow by 0.5% annually through 2025, creating earnings tailwinds for top defense stocks.
With all of the game changing tech and products that KWEMF has under its belt, there is no denying that this company could have a very bright future ahead.
With many defense stocks trading at over $100, KWEMF at these levels could be a true hidden gem.
Especially with revenues exploding and the world's largest defense spender already knocking at the company's door!
KWEMF IS FIRING ON ALL CYLINDERS TO BECOMING A BIG NAME IN THE DEFENSE ARENA AND COULD BE GEARING UP FOR AN EPIC BOUNCE!
Disclaimer – Always do your own research and consult with a licensed investment professional before investing. This communication is never to be used as the basis of making investment decisions, and is for entertainment purposes only. At most, this communication should serve only as a starting point to do your own research and consult with a licensed professional regarding the companies profiled and discussed. Conduct your own research. This newsletter is a paid advertisement, not a recommendation nor an offer to buy or sell securities. This newsletter is owned, operated and edited by Stellar Media Group, LLC.  Any wording found in this e-mail or disclaimer referencing to "I" or "we" or "our" or "Stellar Media" refers to Stellar Media Group, LLC.  Our business model is to be financially compensated to market and promote small public companies.  By reading our newsletter and our website you agree to the terms of our disclaimer, which are subject to change at any time. We are not registered or licensed in any jurisdiction whatsoever to provide investing advice or anything of an advisory or consultancy nature, and are therefore are unqualified to give investment recommendations. Companies with low price per share are speculative and carry a high degree of risk, so only invest what you can afford to lose. By using our service you agree not to hold our site, its editor's, owners, or staff liable for any damages, financial or otherwise, that may occur due to any action you may take based on the information contained within our newsletters or on our website. We do not advise any reader take any specific action. Losses can be larger than expected if the company experiences any problems with liquidity or wide spreads. Our website and newsletter are for entertainment purposes only. Never invest purely based on our alerts. Gains mentioned in our newsletter and on our website may be based on end-of-day or intraday data. This publication and their owners and affiliates may hold positions in the securities mentioned in our alerts, which we may sell at any time without notice to our subscribers, which may have a negative impact on share prices. If we own any shares we will list the information relevant to the stock and number of shares here. We do not own any shares in KWEMF. We have been compensated $25k via wire by a third party,  Emerging Markets, LLC., for this communication on KWEMF. Stellar Media's business model is to receive financial compensation to promote public companies.  This compensation is a major conflict of interest in our ability to be unbiased regarding . Therefore, this communication should be viewed as a commercial advertisement only.  We have not investigated the background of the hiring third party or parties. The third party, profiled company, or their affiliates likely wish to liquidate shares of the profiled company at or near the time you receive this communication, which has the potential to hurt share prices.  Any non-compensated alerts are purely for the purpose of expanding our database for the benefit of our future financially compensated investor relations efforts. Frequently companies profiled in our alerts may experience a large increase in volume and share price during the course of investor relations marketing, which may end as soon as the investor relations marketing ceases. The investor relations marketing may be as brief as one day, after which a large decrease in volume and share price is likely to occur. Our emails may contain forward looking statements, which are not guaranteed to materialize due to a variety of factors. We do not guarantee the timeliness, accuracy, or completeness of the information on our site or in our newsletters. The information in our email newsletters and on our website is believed to be accurate and correct, but has not been independently verified and is not guaranteed to be correct. The information is collected from public sources, such as the profiled company's website and press releases, but is not researched or verified in any way whatsoever to ensure the publicly available information is correct. Furthermore, Stellar Media often employs independent contractor writers who may make errors when researching information and preparing these communications regarding profiled companies. Independent writers' works are double-checked and verified before publication, but it is certainly possible for errors or omissions to take place during editing of independent contractor writer's communications regarding the profiled company(s). You should assume all information in all of our communications is incorrect until you personally verify the information, and again are encouraged to never invest based on the information contained in our written communications. The information in our disclaimers is subject to change at any time without notice.