Awakn Life Sciences Corp. (AWKNF)
USA: OTCQB: AWKNF | CANADA: NEO: AWKN | GERMANY: FWB: 954
Last Price: $2.44 | Website | SEC Filings | Latest News

Subscriber,
Just one week ago, I unleashed an alert that completely rocked Wall Street. It was a special momentum alert that had a Red Hot Chart Setup that I said could deliver profits of OVER 250%... and it ended up Soaring by 936%!!!
Well, I believe another Insanely Profitable Opportunity has presented itself and it's yet another Special Momentum Play so let's dive in...
There are currently no licensed pharmacological treatments for behavioral addictions or disorders available, and the need to find new and effective treatment options has never been more important.
This is one reason why today's alert is very exciting!
The biotech arena is one of the most watched spaces on Wall Street... and rightfully so considering how many breakthrough medicines and treatments the world has seen in recent years.
Mental health has become a very serious topic in the space...
Typical treatments such as anti-depressants have hit a wall. They simply mask the patient's symptoms rather than treat the root of the issue. It is no surprise that psychedelics have exploded onto the scene, growing to a staggering $4.75 billion last year!
With the growing education of psychedelics in mental health, Research and Markets has projected the market to DOUBLE to $10.75B by 2027!
Ketamine has recently become the star of the psychedelic medicine movement and the nation is clamoring for more information about this new treatment that has even been approved by the Food and Drug Administration for depression!
A study has additionally found that a single infusion of ketamine plus behavioral therapy helped alcohol-dependent individuals reduce their drinking!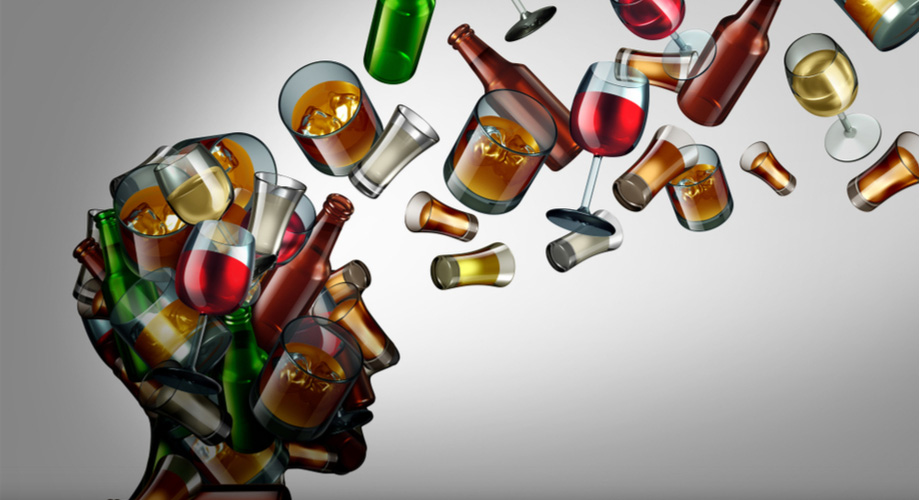 This is a remarkable finding! As the popularity of ketamine continues to grow, an under the radar biotech company could soon stand out for its revolutionary treatments for behavioral and substance addiction!
Backed by world leading experts, this company's narrative is reading like a Big Board player and is going virtually undiscovered right now!
Freshly debuted in the U.S. OTCQB market just last summer, Awakn Life Sciences Corp. (OTC: AWKNF) is quickly seeing impressive growth and still looks to be at the early stages!
Awakn Life Sciences Corp.
(OTC: AWKNF)
Awakn Life Sciences is a biotechnology company with clinical operations, developing and delivering psychedelic therapeutics (medicines and therapies) to better treat addiction. Awakn's team consists of world leading chemists, scientists, psychiatrists, and psychologists who are developing and advancing the next generation of psychedelic drugs, therapies, and enabling technologies to treat addiction. Awakn will deliver these evidence backed psychedelic therapies in clinics in the UK and Europe and through licensing partnerships globally.
AWKNF - A Ground-Floor Discovery with a "STRONG BUY" Rating
AWKNF only commenced trading in the OTCQB market last August at around $1. By November the stock was as high as $2.71!
This was a move of about 150% in a couple of months!
"The uplisting to the OTCQB is a significant achievement in our strategy to broaden our reach and access into the institutional and retail investment community in the United States. We look forward to introducing Awakn to both the U.S. institutional and retail investment community as we continue move forth our strategy of researching, developing and delivering psychedelic medicine to better treat Addiction."
Anthony Tennyson, Awakn's CEO.
The OTCQB is the venture tier of OTC Markets on which 11,000 U.S. and global securities trade. Trading on the OTCQB will enhance the visibility and accessibility of the Company to U.S. investors.
The stock has continued to rise since I last alerted it, showing just how strong the momentum is in this stock and how quickly it's continuing to build... even as it nears 52-Week Highs!!!
Take a look at the chart to see exactly what I mean...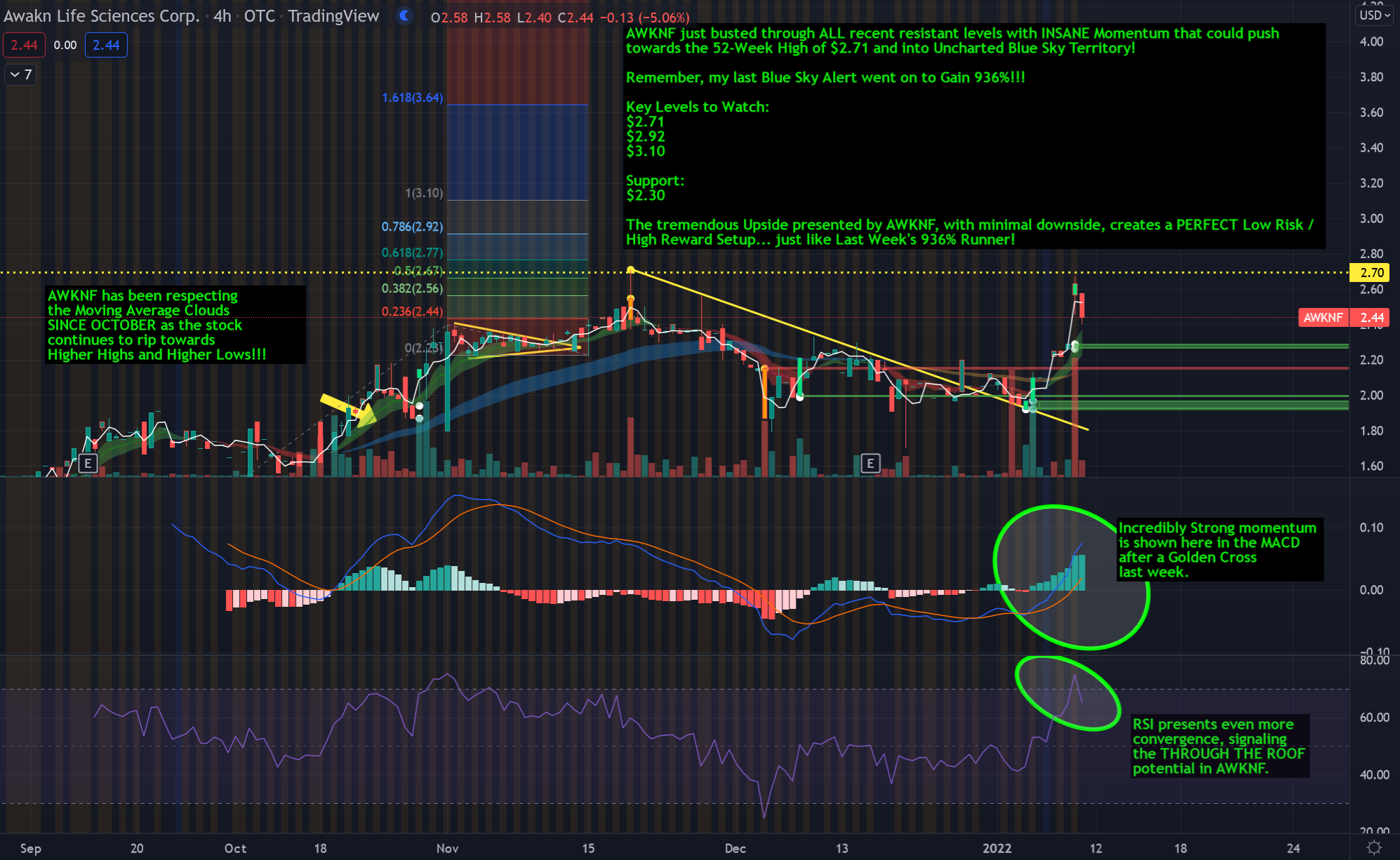 AWKNF also has a "STRONG BUY" rating currently from Investing.com under the company's Canadian ticker symbol as seen below:
More gains could continue as Wall Street digests what the company is doing...
Let's dig in!
AWKNF - Tackling Addiction Problems in a Unique Way
AWKNF is both a cutting-edge biotechnology company developing new, more effective therapeutics, to treat addiction, and also a clinic operator delivering treatments, in clinics they own and operate in the UK and Europe and beyond these territories through licensing partnerships.
The company is developing a revolutionary new approach for treating substance and behavioral addictions!

Based on new research, AWKNF's drugs uniquely target the brain circuits that drive addiction, through multiple receptors rather than the single drug receptors targeted by existing treatments.
These circuits control the behavioral drivers of addiction.
By focusing on circuit mechanisms rather than isolated receptors, our treatments have the potential to be effective in the treatment of both substance and behavioral addictions.

This brain circuit-disruption allows the individual to engage with the company's psychotherapeutic process in unique ways that enable clients to escape repetitive addictive behaviors and thoughts; and make long lasting positive changes.
Research
Researching and developing;

Ketamine-assisted psychotherapy for substance and behavioral addictions

MDMA-assisted psychotherapy for Alcohol Use Disorder

Next-generation psychedelic drugs and therapies to treat addiction
Clinics
Treat addiction and other mental health conditions
Partnerships
Scale the company's impact and reach through licensing partnerships
Therapeutics Commercialization
Once marketing authorization has been secured for the company's therapies and drugs, they will commercialize them by scaling through traditional pharmaceutical channels.
Technology
Enabling Technologies to improve the effectiveness of Psychedelics in treating addiction
AWKNF - Company is Capitalizing on Drugs and Therapies Used in Combination to Help People
Addiction is one of the world's biggest unmet medical needs. Substance and behavioural addictions affect over 1.3 billion people worldwide. Yet all current treatments have high failure rates.

AWKNF is developing a better solution to treat addiction: psychedelic therapeutics – drugs and therapies used in combination.

Through clinical trials, the company's team has shown that this approach has the potential to be more effective than any addiction treatment currently available. They now aspire to become the market leader in effective addiction treatment, meeting a vast global need that is failed by current approaches.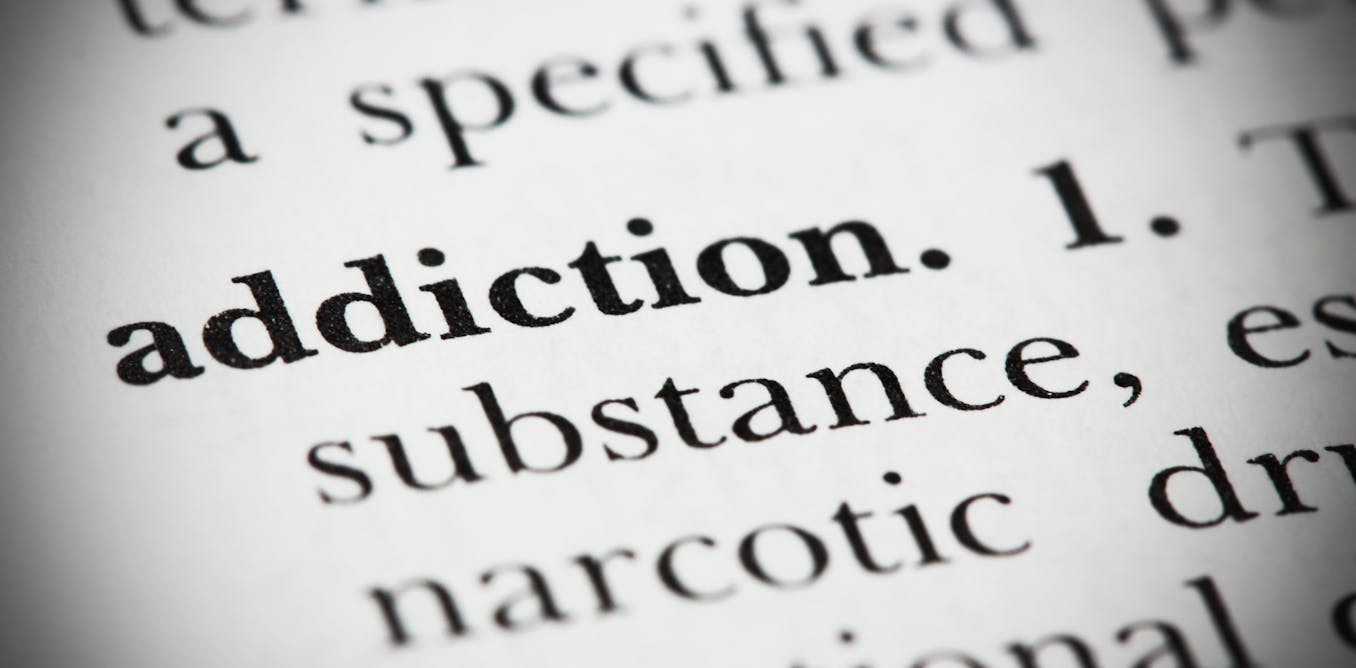 What is addiction?
Addiction is currently a poorly treated, chronic medical disease involving complex interactions among brain circuits, genetics, the environment, and an individual's life experiences.

People with addiction use substances or engage in behaviors that become compulsive and often continue despite harmful consequences.
Addiction: The other pandemic
Between 15-20% of adults suffer from substance addictions, and many others from behavioural addictions.

Yet available treatments are poor. Just 16% of Alcohol Use Disorder sufferers seek treatment, and up to 75% of those people relapse within 12 months. Behavioural addictions are so poorly served there is no good data available on either treatment or success rates.

Despite these high failure rates, $17bnper year (and rising) is spent by on private addiction treatment. The individuals footing this bill have a right to expect more.
Source: awaknlifesciences.com/about-addiction
The business opportunity
Even with the poor treatments available, the global market for substance treatments in 2019 was worth $17.5 billion and forecast to rise to $31.5 billion by 2027.

We believe the real opportunity is much more significant. Many avoid treatment because they think – justifiably – it will fail. If addiction treatments were more effective, and treated a wider range of substance and behavioral addictions, we'd expect the number of people seeking treatment to rise considerably – dramatically increasing the size of the market.


A company like AWKNF, which could effectively treat substance and behavioral addictions, could quickly gain significant market share in this poorly served market!

AWKNF's team has successfully conducted the world's only clinical trials of ketamine and MDMA in a therapeutic setting as treatments for alcohol use disorder!
They are now conducting trials for other addictions, including gambling, and building a pipeline of patentable psychedelic therapeutics that will create even more effective medicines in future.
Market Opportunity:
Alcohol Use Disorder affects 5% of the global adult population, but treatment rates are only at 16% due to the low success rates. 75% relapse within 12 months.

Gambling Disorder affects 10m US adults1 with no pharmacological
Source: Awakn-Corporate-Presentation-0311.pdf (awaknlifesciences.com)
AWKNF - Expanding World's First Ketamine Study Beyond Gambling Disorder
In very exciting news announced at the start of 2022, AWKNF has received ethical committee approval to expand its existing ketamine study beyond Gambling Disorder to include THREE OTHER behavioral addictions including: Binge Eating Disorder, Compulsive Sexual Behaviour and Internet Gaming Disorder.
The basket study, which will be another world's first, is led by Prof. Celia Morgan, AWKN's Head of Ketamine-Assisted Therapy for Addiction, Professor of Psychopharmacology at the University of Exeter, U.K., and an internationally respected expert in the therapeutic use of ketamine.
Professor Morgan's work will investigate a new treatment approach for these behavioral addictions, trying to harness a window in which the brain is able to make new connections. The study will explore and monitor whether the ketamine can increase neuroplasticity using EEG (Electroencephalogram).
"We are delighted to expand this research and to make further inroads into a treatment area that has had no material pharmacological advancements in far too long, all the while the number of people suffering has steadily increased. We hope this will give us valuable insights to push our ketamine program forward and help these people as quickly as possible."
- Professor Morgan
The global populations affected by behavioural addictions are massive with Binge Eating Disorder affecting up to 110 million people; Internet Gaming Disorder affecting 238 million; Sexual Compulsive Behaviour affecting up to 350 million; and Gambling Disorder up to 450 million people. (SOURCE)
AWKNF - The Ketamine Boom is Exploding in Popularity
According to research, current mental health treatments are only 30% effective.
Ketamine treatments however have proven to be 85% effective, that's 50% more effective than traditional methods!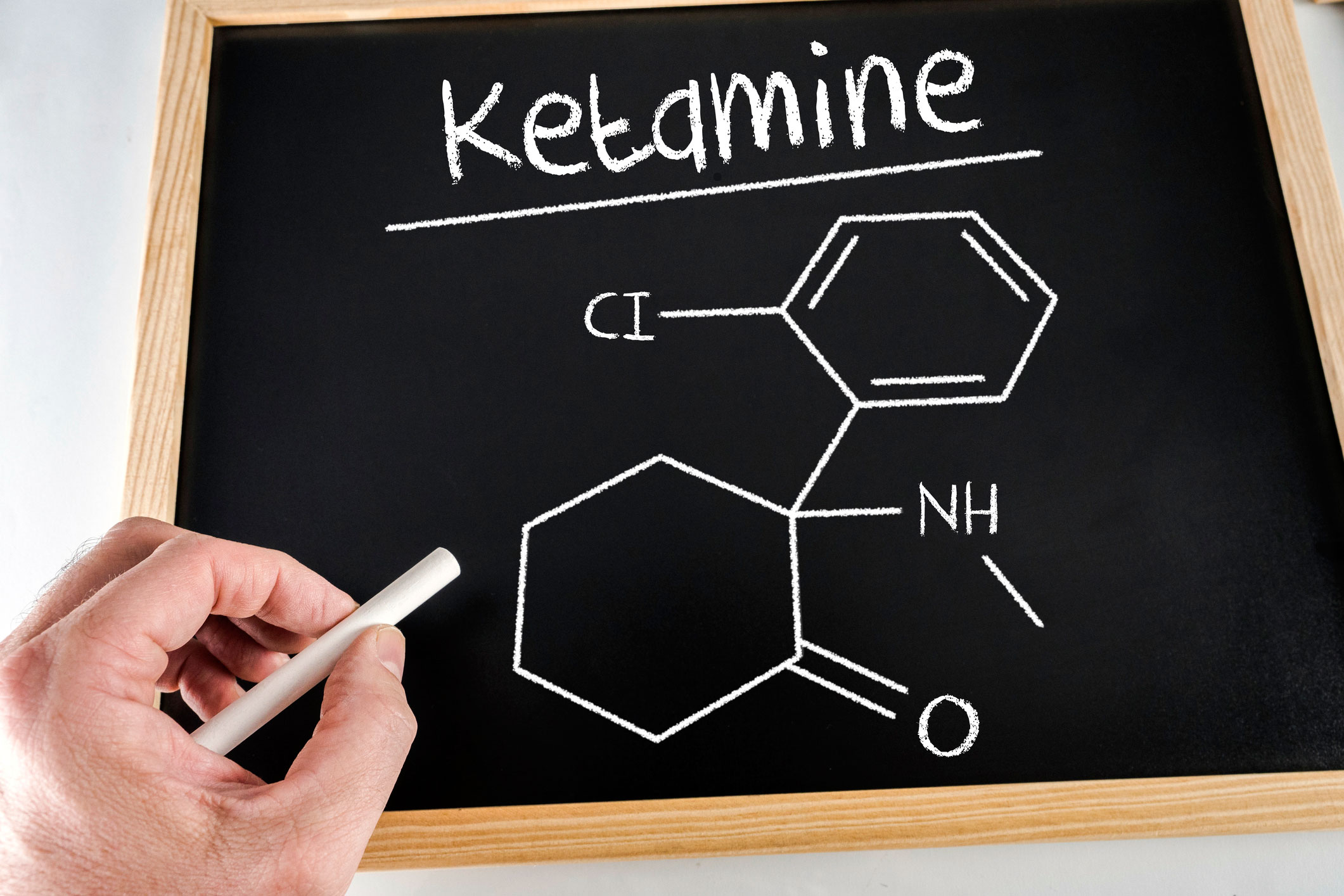 The World Health Organization lists ketamine as one of the most essential medicines due to its therapeutic effects and wide margin of safety. Pioneering work by organizations like Yale University and the NIH have established the effectiveness of ketamine on mood disorders, including depression, earning it the title of "the biggest discovery in mental health in decades."
As stated in the Psychiatric Times, "Ketamine has caused quite a stir in psychiatric practice. Sub-anesthetic administrations of ketamine have been shown to markedly improve symptoms of depression and anxiety!
Results from new studies suggest that ketamine may be effective in treating alcohol use disorder.
Researchers found that when participants were treated with ketamine instead of midazolam, a sedative that helps with alcohol withdrawal, they had higher rates of stopping drinking following treatment. They were also less likely to relapse, had fewer days of drinking, and had fewer days of heavy drinking.
AWKNF - Delivery Clinics Providing Hope for Millions of People
The company is providing hope for those for whom the status quo is not working by combining the proven therapeutic potential of psychedelics with psychotherapy to treat addiction and other mental health conditions.
Each Awakn Clinic will be owned and operated by Awakn, will be led by a consultant psychiatrist, will deliver ketamine-assisted psychotherapy in the near term, and will utilize MDMA when Awakn secures marketing authorization.
Some Awakn Clinics will also be sites for Awakn Research's clinical trials.
AWKNF - Experienced and Notable Management on Board Including a Top Researcher
AWKNF's research team consists of world leading experts in the fields of drug development, clinical research, psychiatry, psychotherapy and neurochemistry.
The team, is building a pipeline of new therapeutics (drugs and therapies to be used in combination).
Chief Research Officer, professor David Nutt is a psychiatrist and the Edmund J. Safra Professor of Neuropsychopharmacology in the Division of Brain Science, Dept of Medicine, Imperial College London.
There he uses a range of brain imaging techniques to explore the causes of addiction and other psychiatric disorders and to search for new treatments. He has published over 400 original research papers, a similar number of reviews and books chapters, eight government reports on drugs and 28 books, including one for the general public, Drugs: Without The Hot Air, that won the Transmission Prize in 2014!
He is currently the President of the European Brain Council and Founding Chair of Drug Science. Previously he has been president of the British Association of Psychopharmacology, the British Neuroscience Association, and the European College of Neuropsychopharmacology.
"Our ambition is to fully integrate effective psychedelic-based treatment into mainstream healthcare to better treat addiction. Our preclinical and clinical development programs are moving forward rapidly, and we have a world-class R&D team with unparalleled experience. Entering lead optimisation is a significant step towards delivering NCE with improved capabilities over existing options."
- Prof. David Nutt
AWKNF - Some Impressive Business and Operational Updates
Since going public in the summer of 2021, the company has made significant progress on the development and delivery of effective psychedelic-based therapeutics to better treat addiction.
Here are some highlights:
Identified new chemical series via their drug discovery program, discovering novel entactogen-like NCEs. Four leading series have been selected to be taken into in vivo efficacy analysis. The data generated will be used to support patent applications and to facilitate the development of additional lead compounds for clinical development.

Signed a Memorandum of Understanding ("MOU") with NHS (Devon Partnership NHS Trust) and University of Exeter ("UOE") with a view of increasing access to psychedelic-assisted psychotherapy within the UK National Health Service (NHS).

Acquired exclusive rights to MDMA research from Imperial College London. The MDMA research, data from the Phase IIa Bristol Imperial MDMA in Alcoholism Study (BIMA), is an open-label safety, tolerability and proof-of-concept study to investigate the role of MDMA-Assisted Psychotherapy in treating patients with alcohol use disorder (AUD), which resulted in a relapse rate of only 21%, 9 months post treatment.

Received the Care Quality Commission's (CQC) formal approval for Awakn's Bristol clinic to begin treatments. Awakn Clinics Bristol is one of three Awakn clinics, with Awakn Oslo AS (Norway) already providing treatments and London (UK) expecting to become operational in early 2022. Treatments at the clinic are led by on-site psychiatrists and will treat a number of addictions and mental health disorders.

Acquired Axonklinikken AS ("Axon"), a leading ketamine-assisted psychotherapy clinic in Norway, to be renamed "Awakn Oslo AS", as part of planned Nordic expansion. Awakn Oslo AS clinic will serve as the Nordic hub in order to expand its clinical network across the region.

Key Corporate Highlights and Developments:

Appointed Former EVP & Chief Commercial Officer of Gilead Sciences, Paul Carter, as Awakn's Independent Member of its Board of Directors. Paul has over 25 years of senior executive experience, specializing in commercialization, regional leadership and mergers and acquisitions. With Paul joining, Awakn's Board of Directors will shift to an independent majority.

Strengthened Executive Leadership Team by appointing Kate Butler to be CFO, and Jonathan Held, Current CFO, will transition to be Chief Business Officer.

As of October 31, 2021, the Company had approximately $5.7 million in cash and no debt!
AWKNF - Company Announces Voluntary Lock-up Agreement Extension
AWKNF started off the year with a big announcement that indicates just how much confidence the company has about its future!
Management, the Board of Directors, and key shareholders, have voluntarily entered into a Lock-up Agreement extension of their equity ownership with respect to approximately 11,500,000 shares or 46.1% of the issued and outstanding shares of the Company.
"The lock-up agreements entered by our team, the Board, and Lock-up Shareholders reflect the continued confidence in the long-term vision of Awakn as an emerging leader in the psychedelic industry. The voluntary lock-up demonstrates the conviction towards our team, strategy, and business model as the psychedelic industry accelerates rapidly."
- Anthony Tennyson, Chief Executive Officer
Pursuant to the voluntary lock-up agreement, management, the Board, and Lock-up Shareholders have extended the original lock-up agreement by six months from December 23, 2021 to June 23, 2022 and are subject to leak out provisions every three months thereafter until December 23, 2023. The lock-up agreements stipulate that these stockholders will not sell, pledge, assign, transfer, hypothecate or otherwise dispose of any of the Lock-up Shares, or enter into any swap, hedge or engage in any short-selling of the Lock-up Shares, in addition to other restrictions.
THE BOTTOM LINE
We are in the ketamine renaissance and finding key players in this early-stage growth phase could mean a lot of opportunity.
AWKNF is targeting addiction disorders, a massive market, with breakthrough therapies that could become the standard practice for treatment.
The company is building on its position and experience as a clinical phase biotechnology company to develop a significant portfolio of innovative and targeted novel candidates to treat poorly addressed substance and behavioral addictions!
The fact that AWKNF's stock only commenced trading in July of 2021 in the U.S. OTCQB markets means this may be a ground-floor situation unfolding that is still essentially going way under the radar!
Shares had exploded from $1 to a 52-week high of $2.71 last year. The stock more than doubled in a few months' time!
There could be more explosive upside ahead as Wall Street learns about this emerging biotech player redefining substance and behavioral addiction treatment! With a New ALL-TIME High within Reach and Blue Sky Territory a possibility for TODAY, traders need to be at the ready immediately!